TRAVEL INFORMATION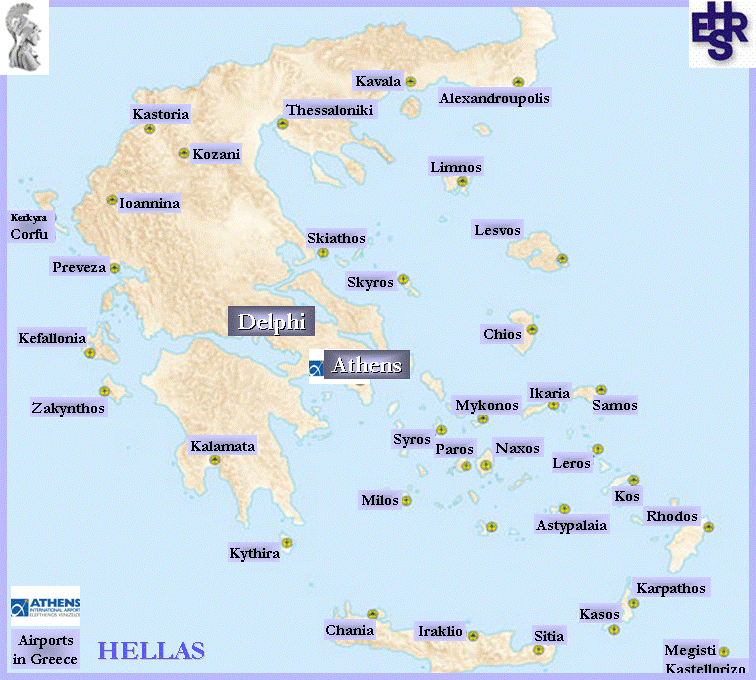 For flight information to/from Athens, Greece visit the links below:
· Athens International Airport "Eleftherios Venizelos"
· Airlines operating from Athens International Airport
· Athens International Airport flight information
· Athens International Airport arrivals and departures
· Budget flights (indicative)
Many European cities
Cologne/Bonn
Berlin, London Gatwick, London Luton
Bratislava, Budapest, Kosice, Vienna
Stockholm, Oslo
Scandinavian destinations
Travel to/from Delphi

A person from the organizers will be at the airport on May 10th to help, if necessary.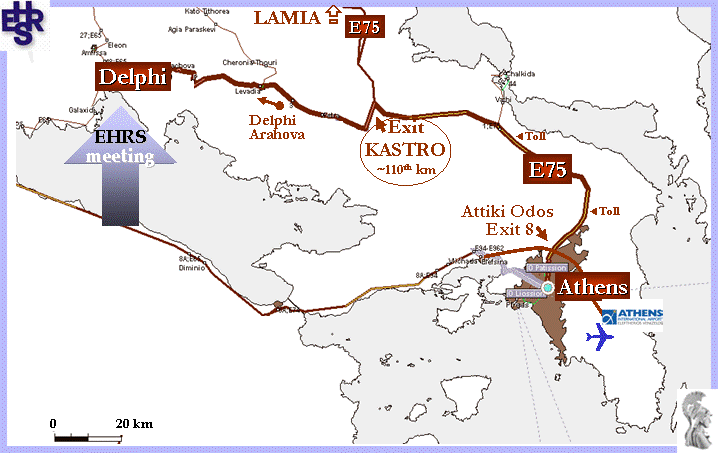 · Public Road Transport Buses (KTEL) from Athens KTEL Bus Terminal (260, Liossion Str, "Tris Gefyres", Tel: +30 2108316927).
One-way single tickets available at KTEL Bus Station: ca. 12€. Bus service: every 2-3 hours. Duration of the trip: ca. 3 hours. To check the timetable click here. Select Region Attiki or Fokida and Town Athens or Delfoi, respectively. Timetables are subject to change. Before your trip, confirm timetables by phone: +30 2108316927 (Athens office) or +30 2265082880 (Delphi office).
A person from the organizers will wait at Delphi Bus station on May 10th to help, if necessary.

Access to Athens KTEL Bus Terminal from the Airport:
X93 Express Bus directly to Bus Stop Stathmos Yperastikon Leoforion Liossion (frequently between 06:00 and 04:20, ca. 30-40 minutes, single ticket price: 2.90€). For the timetable click here
Metro (every 30 minutes between 06:30 and 23:30, single ticket price: 6€, 2-person ticket price: 10€, available at the Metro ticket booths) to SYNTAGMA Station (Line 3, direction Monastiraki), change for ATTIKI Station (Line 2, direction Agios Antonios) and then by taxi (average fare: 2-3€, ca. 10 minutes from Attiki).
Taxi (average fare: 22 €, ca. 30 minutes)

· Taxis are available in front of the Arrivals terminal of the Airport, at the Bus Station or in the centre of Athens (ca. one and a half hour, fare: ca. 170 €, ask the taxi driver for the fare before departure).

· Car rental agencies are available at the Airport. Delphi is about 180 km NW. From Athens take the National Toll Road E 75 towards Lamia (from the airport take "Attiki Odos", towards Elefsina and get in E75 through Exit 8 "Athinon-Lamias"). Leave E75 at Exit "Kastro" (ca. 110th km) and drive to the direction of Arahova and Delphi.

How to get to the Centre of Athens from the Airport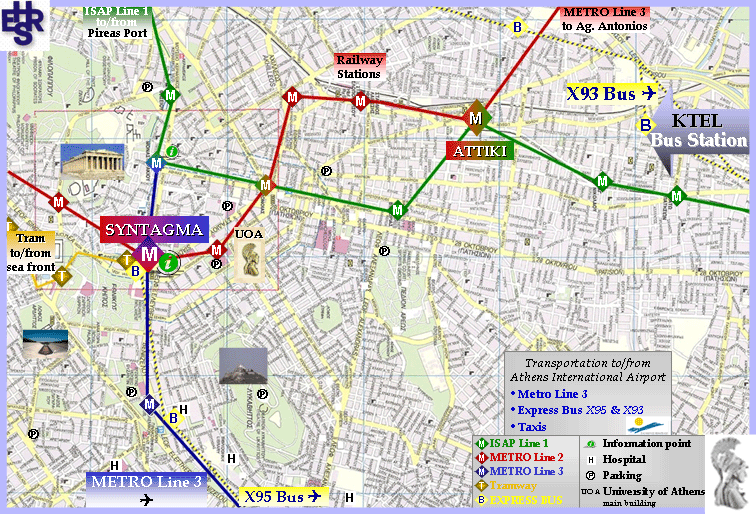 · Metro Line 3 to SYNTAGMA (every 30 minutes between 06:30 and 23:30 from the Airport and between 05:40 and 22:40 from the centre of Athens, ca. 40 minutes, single ticket price: 6€, 2-person ticket price: 10€, available at the Metro ticket booths).

· X95 Express Bus to SYNTAGMA (24h service, ca. 30-40 minutes, single ticket price: 2.90€).

· Taxis are available in front of the Arrivals terminal (fare: ca. 22€, ca. 30 minutes).

* NB: For information on public transport in the City of Athens visit Athens Urban Transport Organisation or Attiko Metro. Tickets are not sold on board and must be validated once at the validation machines. Bus and trolley bus tickets (single ticket price: 0.45€) can be bought at booths and kiosks around the city. Metro tickets (single ticket price: 0.70€) are sold at automatic machines and booths at metro stations. Licensed yellow taxis are commonly available and can be hailed from the street or else booked by telephone at various local offices. Getting around Athens by taxi is rather inexpensive. The fare is displayed on a meter and the basic daytime taxi fare is around 2€. Within the city the total fare rarely exceeds 10€. Delegates are strongly advised to hail only yellow cabs in Athens. Taxi drivers are usually reliable and some of them speak English.
DELPHI - LOCAL INFORMATION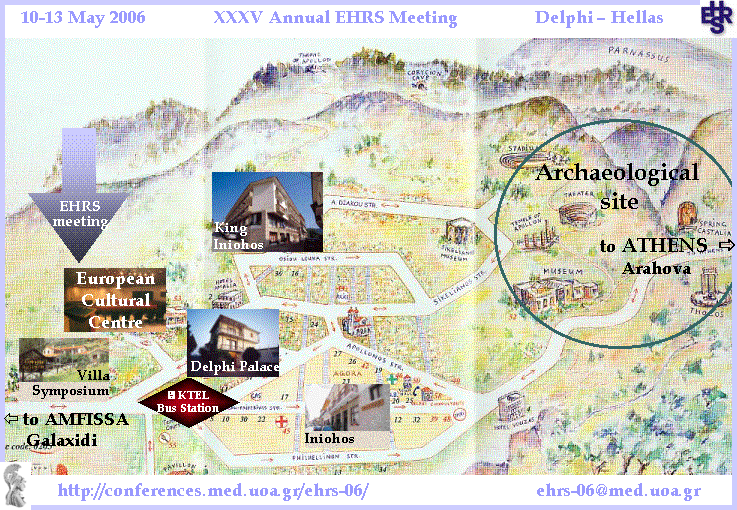 Delphi is situated in the Central Greece, 600 meters above sea level on the slopes of Mt Parnassos, about 180km NW of Athens and 15 km NE of the Corinthian Gulf harbours of Kirrha and Itea. It is passed by a major road linking Athens with Amfissa, the capital of the Prefecture of Fokis or Fokida.
· Delphi Municipality
· European Cultural Centre of Delphi
· Delphi Archaeological Site
· Delphi Archaeological Museum
· UNESCO World Heritage
· Prefecture of Fokis or Fokida
The Archaeological Site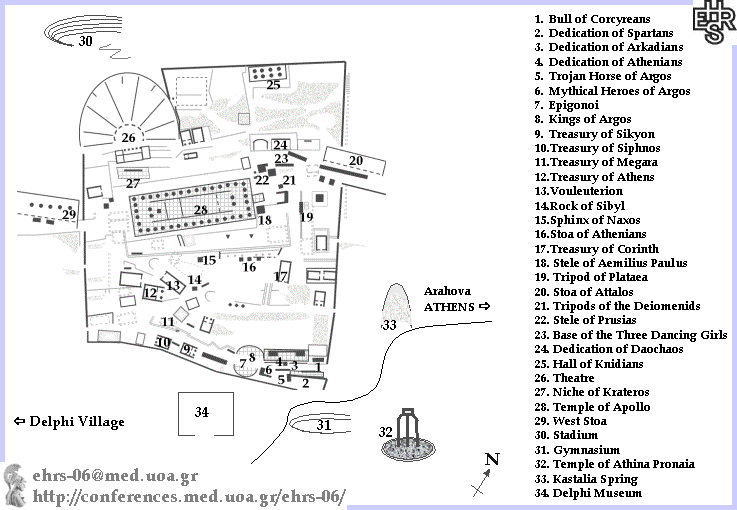 Climate and Weather

The climate of Greece is Mediterranean with plenty of sunshine, mild temperatures and a limited amount of rainfall. The geographical position of the region around Delphi accounts for the dry and mountainous climate inland and the mild conditions on the coast. In May, sunny and warm weather is expected, with night breezes, infrequent brief intervals of rapid rain and a temperature of 16 - 24 oC.
For weather forecast please visit:
· Hellenic National Meteorological Service
· Poseidon System Forecast for Greek Seas
The New Town - Facilities

Delphi is a lively town full of history, heritage and culture. Today's residents welcome visitors in the modern infrastructure. Restaurants, cafes, bars and hotels, both traditional and contemporary in style, can be found in Delphi. Shops, where you can buy traditional goods and souvenirs are open 7 days a week. All major credit cards are welcome. Easy access to the web is offered by many internet cafes.
One may discover the natural beauty of Delphi and the surrounding area, choosing from a number of itineraries proposed by local travel agents. Travelling by local buses provides a unique opportunity to get to know Greek places rarely seen by tourists. Details are available at the Hotel reception.
Useful Telephone Numbers
Country Code: 30, Outgoing Code: 00
Athens Code: 210, Delphi Code: 22650
Most public telephones do not accept coins; a phone card is necessary. The mobile telephone service is good around the country.
· European Cultural of Delphi - Athens office: (+30) 2107233943
· Delphi Taxi Station: (+30) 2265082000
· Delphi Bus Station: (+30) 2265082880
· Tourist Police Station, Delphi: (+30) 2265082220
· Tourist Police Station, Amfissa: (+30) 2265028223
· Delphi Museum: (+30) 2265082312
· Delphi Medical Center: (+30) 2265082307
· Parnassos Ski Centre: (+30) 2234022689, 2234022695
· Amfissa General Hospital: (+30) 2265022053, 2265028400, 2265022222
· Athens International Airport: (+30) 2103530000
FURTHER INFORMATION ON TRAVELLING IN GREECE

· Athens International Airport "Eleftherios Venizelos"
· Athens Urban Transport Organization "OASA"
· Athens Metropolitan Underground Railway "Attiko Metro"
· Athens and Pireas Electric Railways "ISAP"
· Public Road Transport Buses "KTEL"
· Train Transport "OSE"
· Routes to the Islands from Pireas Port: High Speed and Ferries
· Greek Ministry of Culture
· Greek National Tourism Organisation
· Culture Guide of Greece
· ATHENS 2004 Olympic Games
Information on entering Greece

In addition to entering Greece by air, there are direct ferry connections between Greece and Italy or Turkey, as well as railway and bus connections between Greece and various European countries and Turkey.
Passport, Visa, Invitation Letters

Greece is a member state of the European Community since 1981 and the formal country name is Hellenic Republic.
Greece follows the Schengen Agreement for visa issues. The citizens of the Schengen area (Austria, Belgium, Denmark, Finland, France, Germany, Greece, Italy, Luxembourg, The Netherlands, Portugal, Spain, Sweden and the associated countries Iceland and Norway) are not subjected to border control, yet a piece of identification issued by a public authority is required.
Most European citizens (Cyprus, Czech Republic, Estonia, Hungary, Ireland, Latvia, Lichtenstein, Lithuania, Malta, Poland, Slovakia, Slovenia, Switzerland, United Kingdom) have only to produce a passport or an I.D. card at the border to enter Greece.
For short-term visits up to 3 months, no visa is required for citizens holding regular passports of Andorra, Argentina, Australia, Bolivia, Brazil, Brunei Darussalam, Bulgaria, Canada, Chile, Costa Rica, Croatia, El Salvador, Guatemala, Honduras, Israel, Japan, Malaysia, Mexico, Monaco, New Zealand, Nicaragua, Panama, Paraguay, Romania, San Marino, Singapore, South Korea, USA, Uruguay, Vatican and Venezuela.
Regular passport holders from the rest of the world need a visa in order to enter Greece.
For information on the visa policy in Greece, participants are advised to visit the website of the Hellenic Ministry of Foreign Affairs or the Greek Embassy or Consulate in their home country, as changes may take place.
In case an invitation letter is required, please contact the Meeting Organisers promptly, to issue this document.
Languages
The official language is Greek and the most common foreign language is English.
Time Zone
Greek time is GMT +2 (in May: GMT +3) and 1h ahead of Central European Time.
Electricity
Electric current in Greece follows the European standards: AC 220 Volts at a frequency of 50 Hz.
Foreign Exchange, Banking, Postal Facilities
The Euro (€) is the only official currency in Greece. Currency exchange is offered at the airport, travel agencies, banks, hotels and various other places. Major credit cards are accepted in most hotels, restaurants and shops. Traveller's cheques or Eurocheques can be cashed at banks. A piece of identification is necessary for the transaction and a commission is generally charged.
Banking hours: Monday to Thursday 08:00-14:00, Friday 08:00-13:30 (except for the official holidays). Automatic teller machines (ATM) are widely available throughout the country.
Signs denoting post offices are usually blue & yellow in colour, as are the post-boxes. Post office opening hours: Monday to Friday 07:30-14:00.
Emergency Telephone Numbers
The EU emergency service number is 112.
Local numbers: Police: 100; Ambulance/emergency medical care: 166; Fire department/general civil emergency: 199.
Insurance
Participants are advised to make their own insurance arrangements. The organisers cannot accept any liability for personal injuries or for loss or damage to property belonging to participants and accompanying persons, either during or as a result of the conference.