SCIENTIFIC PROGRAMME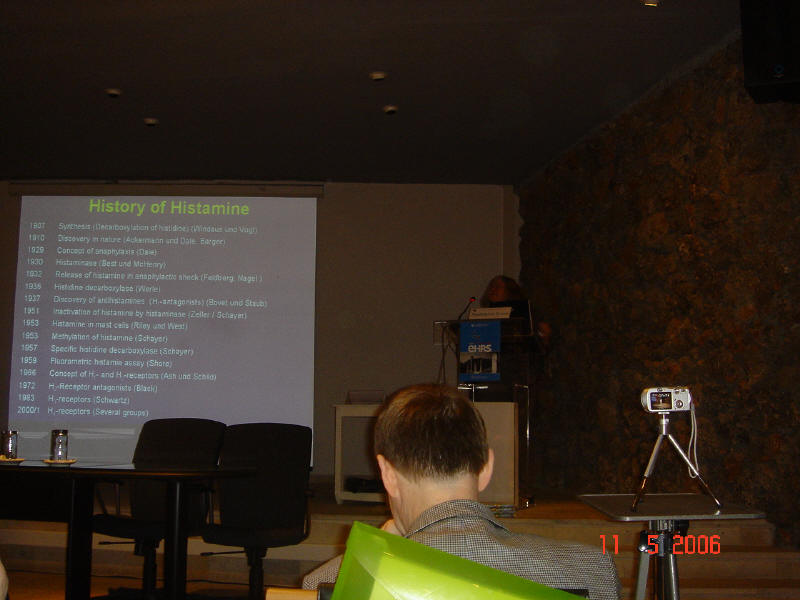 The conference brought together 132 registered participants interested in histamine, from basic scientists to clinicians from all sectors: academic, research institutes, industry, clinical practice.
In addition, more than 20 accompanying persons participated in the social events during the meeting.
Moreover, we were delighted to present Ingrid Olhagen-Uvnäs (Sweden) with an Honorary Membership for her support to our Society over the years.
The meeting consisted of plenary lectures, oral communications (10 min plus 5 min discussion) and poster presentations (on display throughout the meeting and presented in 1 min plus 4 min discussion) based on the 118 abstracts that were submitted, all of very high scientific standard (deadline for abstract submission: 6 January 2006).
The sessions focused on the chemistry and pharmacology of the four histamine receptor subtypes, on established and novel functions of the amine in inflammation, cognition, metabolism, reproduction, differentiation, immunology, neuro-immuno-endocrinology, cancer and genomics.
Oral sessions: (1) Future perspectives in histamine research, (2) Allergy and Inflammation, (3) Metabolism, Reproduction and Cancer, (4) Histamine and brain, (5) Neuro-immuno-endocrine aspects of histamine
Symposia: (1) The Art Hancock Young Investigator Award Symposium, (2) The Art Hancock Memorial Symposium, (3) The D Varonos Memorial Symposium "Clinical implications – histamine and disease", (4) The EUBREN Basophil network symposium
Poster sessions: (1) H3 receptors, (2) Mast cells and Basophils, (3) Histamine in the CNS, (4) Histamine in the GI tract, (5) Clinical aspects of histamine research, (6) Histamine in Reproduction and Cancer, (7) Immunology, (8) Receptors and other subjects.
Short-listing posters for the poster prizes: P-1, P-15, P-18, P-28, P-31, P-35, P-39, P-40, P-44, P-46, P-52, P-57 and P-59 (see the scientific programme for details).
Results of the Poster Competition - Poster Prizes
1st: P-1 Chiara Mariottini et al., H3 receptor activation phosphorylates Akt in rat cortical neurones, Florence, Italy
2nd: P-15 Mariusz Gujski et al., Distribution of mast cell tryptase and metallothionein in human brains with amyloid deposit, Warsaw, Poland
3rd: P-52 Colm Collins et al., Histamine stimulates electrogenic ion transport in avian epithelia, Dublin, Ireland
Highly Commended: P- 44 Peter Pocza et al., Histamine increases the invasive potential of human melanoma cells, Budapest, Poland
Highly Commended: P-59 Jerzy Jochem et al., Influence of amitriptyline on central histamine-induced reversal of haemorrhagic shock in rats, Kabrze, Poland & Ljublijana, Slovenia
Invited talks: (1) "Histamine and the EHRS - what has happened in the last 35 years?" Prof Madeleine Ennis, Respiratory Research Group, The Queen's University of Belfast, UK; (2) the G.B. West Lecture "Histamine and Systems Biology; genes and genomics beyond genes" Prof Andras Falus, Dept of Genetics, Cell- and Immunobiology, Semmelweis Medical University, Budapest, Hungary; (3) "Occupational asthma: diagnosis and management" Prof Piero Maestrelli, Universita degli Studi di Padova, Italy
The full scientific programme is available in PDF format
here
.